Kilauea Volcano Hit by Swarm of Quakes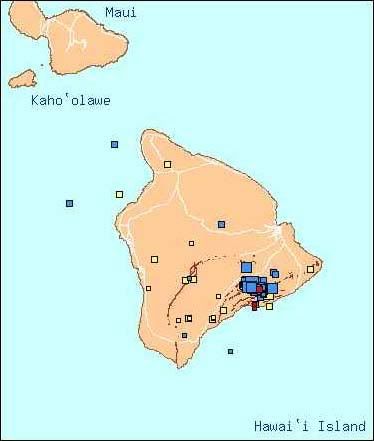 A swarm of small earthquakes have hit the Big Island's Hawaii Volcanoes Natonal Park area for more than 24 hours now. The quakes range from undetectable micro quakes to locally felt tremors of 3.2 to 4 on the Richter Scale. All of the quakes have been centered at Kilauea Volcano's upper rift zone several miles above the current, active eruption.
As a precaution, park rangers evacuated a handful of campers within the national park and closed most of the park yesterday.
The earthquake swarm could be a signal that a change may be happening with the current eruption and that a new eruption could begin. Scientists are not exactly sure and say this is unusual activity for the volcano. The earthquakes also mean that hot lava is moving fairly close to the surface, about 1 to 2 miles under the volcano.
I just hope this latest geological activity on the Big Island does not trigger any earthquakes that are larger than yesterday's 4.0, which was apparently only felt within the local area, and not statewide. No tsunami was generated.