Kelley O'Neil's
I don't really write at Hawaii Metroblog any more, but since I accidentally posted this on MySpace as "Friends Only," I figured I would post it here for non-MySpace users to read. Here you go guys.
I called up Ingu & asked him, "So, if we are going to see a classic rock gig, then would it be a major faux pas if I wore an Alice In Chains hat? I am having a major bad hair day." And Ingu said it should be fine. So off I went.


So, we've been planning this for awhile. Ok, so we decided we were going to go see Les folks play last Sunday. But that's awhile.
Kelley O'Neil's has to be one of my favorite bars. I love Slammers because… well, I patronize Slammers occasionally because it's Bryan's bar & because they have great lumpia. The cocktail waittress that screams "You guys gotta get OUT" at the end of the night (when we are leaving… we're just drunk & it takes a little longer.) is a downer for me & I actually skip going so I don't have to hear that bitch yell at us. But I digress. I love Scores because I see so many people I love there, & I'll be back there as soon as the No Smoking law is in effect; that place has no ventilation. And I love Chiko's because everyone is nice, there are all these absolutely adorable gay men, & the sound system is actually pretty good in spite of the fact that Reliable Vendors hasn't exactly invested very much in them. Yeah, so I have a grudge against Reliable Vendors. Whatever, it's my blog.
When I go to Kelley O'Neil's I'm usually one of perhaps 3 or 4 Asian people in there. It's just full of white people, man. However, it's the cool white people. Know why? 'Cuz the dumb white people are across the street at Moose's. Yeah. It's the Military Asshole Contest across the street, but it's just good music, clean bathrooms, pleasant lighting, & great service on this side.
We started off with a round of Irish Carbombs, my new favorite shot. I dunno what they used – Bushmill or Jamesons? Have to ask next time.

So anyway, Les' band fucking rocks. They're a bunch of classic/hard rock veterans. Do these guys have day jobs? Don't all musicians have day jobs? No, these guys are so fucking good they might not. They might have no retirement, no social security, no POS Medicare & die in poverty & sickness because all they've been doing is play music. Hell yeah.
I always thought I had a pretty decent rock background, but I guess I don't. Because of these guys, I gotta go out & buy more CDs. I recognized the Led Zeppelin & the Deep Purple, but not the Pat Travers or the (I know, I suck!!) Bad Company. That's right… to BMG I go.
Scotty & Mary showed up. Damn, what a great top.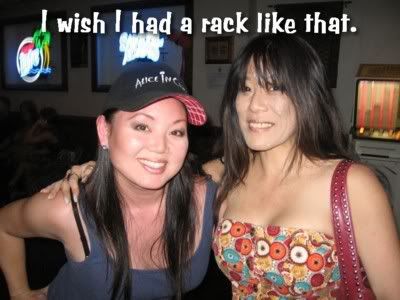 Normally when you go out to see a cover band, you groove to titles you recognize. That's most audiences anyway. But these guys are so good that all night I was screaming, "YEAH!!!!" & then on the side to Ingu, "What song is this, anyway?"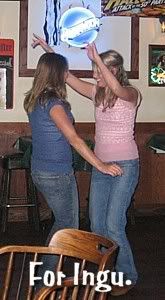 On the 3rd set, Cathy & I sat in. Well, I insisted that I go first because I was sure as hell not following Cathy! I did "Can't Find My Way Back Home" & "Lovin' Touchin' Squeezin'" with Cathy up front as my hot dancing groupie (WOOT), & then Cathy went up & stunned everyone with "Me & Bobby McGee."
I didn't stand up front dancing out of consideration for everyone. lol
Terrence unfortunately missed our 15 minutes of fame because he had run across the street to check out Darin's band. Darin picked up the lead singer from Flesh Concern, & I hear the guy is very good. I would have liked to go too, but Moose's just makes me feel claustraphobic. If I were behind the bar or on the stage in there it would be fine… but sometimes when you're trying to squeeze past guys in there they decide they want to fuck with you. I don't like being mean to people.
Our server, Sarah, was great. I notice that the service there is actually always great. Our ashtrays are emptied regularly, & the waittress seems to always come back at the right time. Ingu & Terrence wouldn't let us pay for anything, but I stuck a 20 in Sarah's pocket. She deserved it.
When Terrence came back he was summoned to the stage. =) Darin & Scotty also sat in. You know, I've played with Darin before & he was the best drummer I ever worked with. I just think he's a fucking misogynist, although we get along fine. Darin kicked ass up there. Scotty's a wonderful bassist. He sings well, too. It was really nice to see those guys up there kicking ass. Which is what they did.

I was chatting with Les' bass player about his Rickenbacker. I told him that when I saw that thing I had called one of my friends & said this dude was playing a bass that looked like a fucking '65 vette. Beautiful. Do you know, he offered to let me borrow it when I mentioned my first electric guitar had been an Aria Pro II bass. Of course I declined. I'm not worthy, I'm not worthy! It's also been like 10 years since I've played a bass.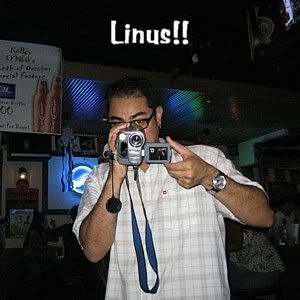 Lyle also showed up; he had been filming Darin's band across the street. He bought us roses, which I realized today we must have left in the bar. Dammit. I'm sorry Lyle!! Like I ever get flowers any more. Oh well.
How I love that red plaid on my hat. The only thing better would be green plaid. Or blue plaid. Who was the fucking genius who thought of decorating the bottom of the bill like that? It makes me so happy.
Anyway, I'm glad we got to hang out. Irish Carbombs. Ayiyiyiyiyi!!
Cathy & Ingu at Kelley O'Neil's
Add to My Profile | More Videos
Add to My Profile | More Videos
That was great. Marc, you missed out.